Communication software

for managing properties
Doorkeep gives you the power to provide standout customer service with modern communication software designed for property managers.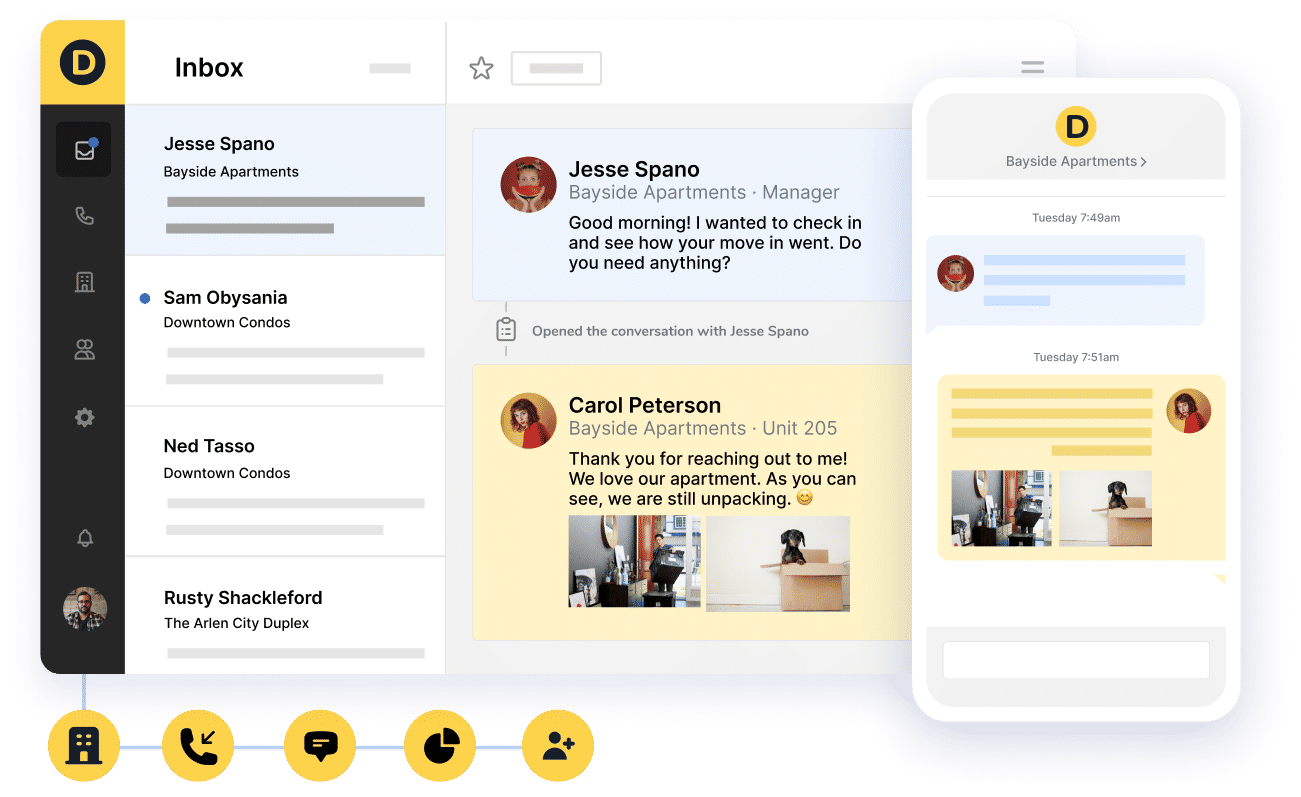 An inbox for
property managers
Transform your customer service and route property related phone calls, text messages and notifications to the right person with your Doorkeep phone number.
Everyone can call and text from the same number. Keep your personal or work phone numbers to yourself and property communications in Doorkeep.
Organize your
property communications
Instantly send text messages, make or receive phone calls, send property announcements, listen to voicemails and more. Keep organized with all communications stored for historical record.
Get full visibility into who answered a tenant phone call, missed a call or who sent what text message with the shared inbox.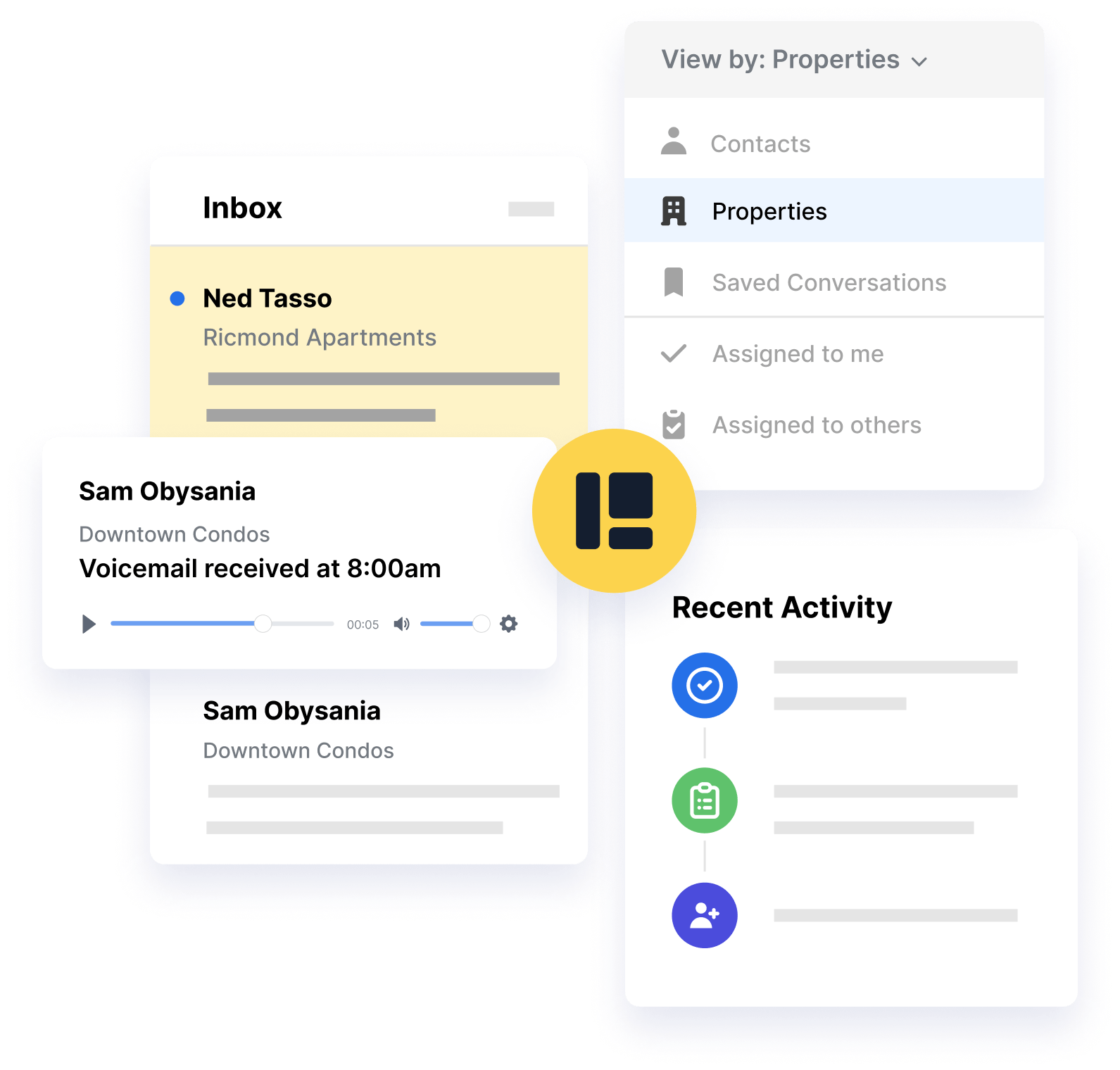 Bring your data with you
Now its easier than ever to get started with Doorkeep. You can import data from Buildium, Google, Talkroute or Contacts on your Mac.
Learn more about Doorkeep Import
Connect with
tenants, vendors
and owners
Know all of your property contacts with the shared address book.
Never fail to followup again. With built-in reminders and notifications we'll ensure you or a teammate never forgets to followup on a phone call or text message again.
Automate your team's day-to-day communication tasks by putting auto-replies, scheduled messages, and text message snippets to work.
Use data to make
informed decisions
Which properties send the most text messages? How many text messages are maintenance related and how many are complaints? How quickly do we respond to our residents?
Get high-level insight into phone call volume, text messaging volume, phone call durations, and even narrowing that down to each property to help you identify problems and adapt to trends.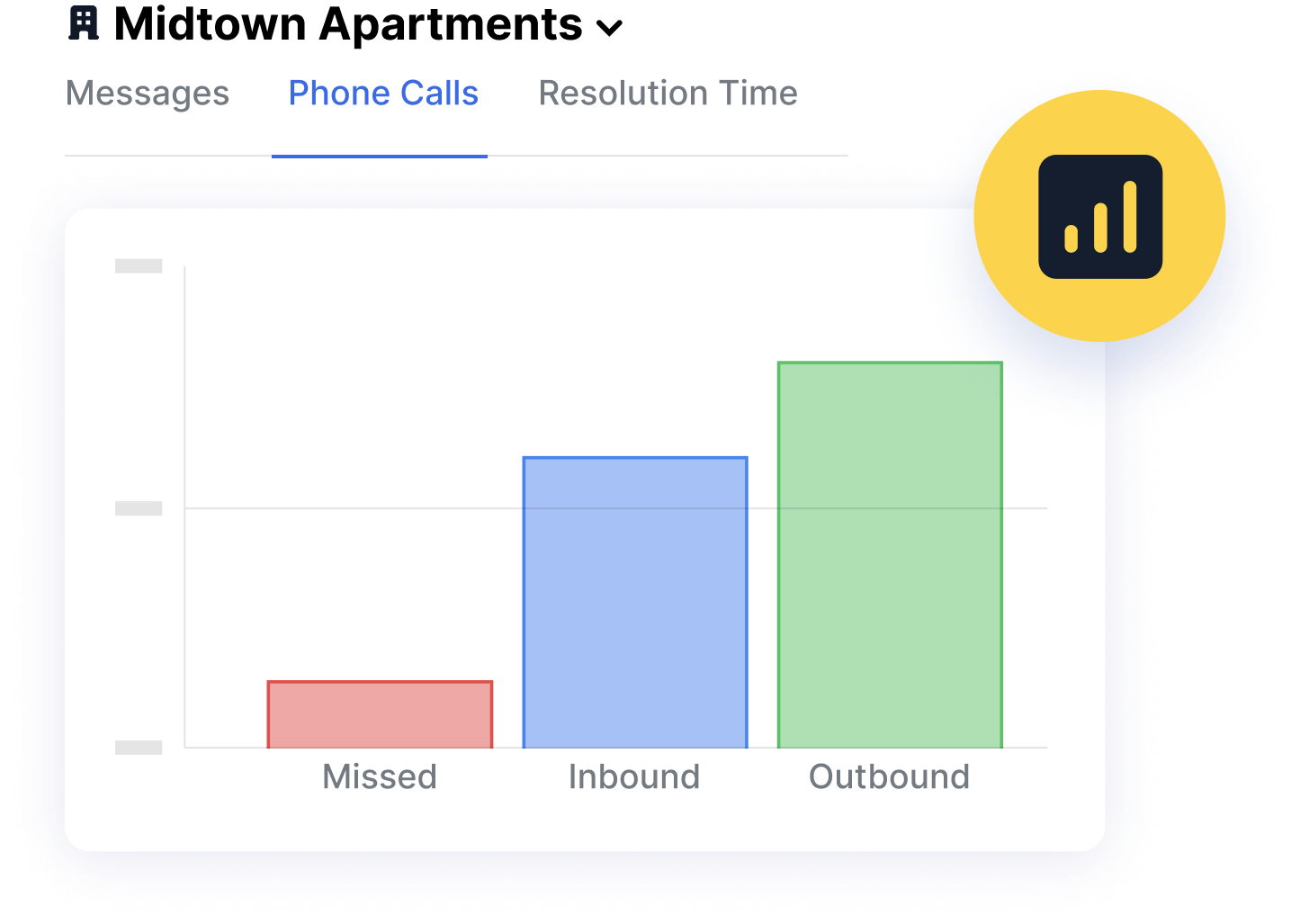 Customized communication
software for properties
Make and receive phone calls
Call anyone on your contact list from your Doorkeep phone number. Receive incoming phone calls from the app or your mobile phone.
Voicemails and call recording transcripts
Record, manage, listen, and share all tenant, owner, prospects and any other contact's voicemails and recorded phone calls.
Advanced call routing
Any incoming call from your Doorkeep contacts will be forwarded to the cell phone or directly in the app of members of your team.
Schedule text message delivery
Write a text message response to a contact and schedule it to be delivered at a later day and time.
Shared Replies
Create responses for common questions so anyone on the team can use them to respond to text messages.
Auto replies
Let Doorkeep automatically reply to contacts when a phone call is missed or a text message was received.
Property based reporting
Gain insights about each property's the phone calls and text message trends.
Property based communication routing
Assign a property manager(s) and that person will be the first to receive phone calls and text message notifications from tenants in that property.
Property wide text messages
Send one text message to a property and let Doorkeep route it to each tenant individually.
Call Menu
Design an ideal call menu system for incoming calls for all of your contacts. Optionally allow tenants to skip the menu and send them directly to their property manager.
Forward calls based on contacts
Calls from vendors, owners and anyone else not a tenant can be easily setup to be forwarded to specific users on your team.
Notification and activity review
Easily see who's been reminded and what communication related notifications have been sent to members of the team.
Simple pricing for anyone
managing properties.
No matter how many properties and doors you manage, we have pricing plan for you.
Management Team Plan
Perfect for small / medium-sized property management company.
$99
Everything from the Standard Plan

Start with 5 users

Property voicemails box

Property hours

Property call schedule

Free setup
Coming Soon
Standard Plan
Good for self managing properties with part-time team members.
$29
Start with 2 users

Unlimited contacts and properties

One local phone number

Send and receive text messages from anyone in US and Canada

Voicemail and text transcription

Call recording

Call menu

Email support
Get started
Enterprise
For organizations with complex requirements and many users.
Call Us
Custom contact and pricing

Everything in Team and Standard plan

Priority support
Contact Sales
Purpose built for
property management
Doorkeep is communication software designed from the ground up for property managers and teams. Property managers have been without purpose built communication tools for too long. We're here to modernize your property based communications.
"I built Doorkeep because so many people I met who were managing properties wasted money on extra phones or struggled with making generic cloud based phone systems work. These tools weren't built for the property manager. Doorkeep is and it's built for you."
Provide top tier customer service to your tenants
Claim a phone number and start calling and text messaging in minutes. Get your property communication organized in a way that is designed for you, your tenants, vendors, teammates and more.
See our pricing →